Trading standards anti-counterfeiting work receives recognition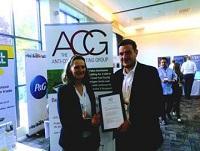 18th June 2018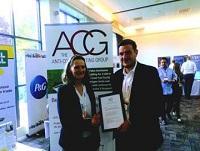 A Powys County Council service has been recognised for its fight against the trade in counterfeit goods at a prestigious awards ceremony.
The council's Trading Standards Consumer Fraud Team received a highly commended award at the Anti-Counterfeiting Group's (ACG) Awards for Excellence in Anti-Counterfeiting, that were held at Chartered Trading Standard Institute Symposium in Nottingham. The team received their award earlier this month (Wednesday, June 6) on World Anti-Counterfeiting Day.
The awards were introduced by ACG in 1994 in order to recognise some of the excellent enforcement work that is happening in the fight against the trade in counterfeit goods.
The Consumer Fraud Team were shortlisted in the Departmental Award for Excellence in Anti-Counterfeiting Enforcement category. It was won by Bridgend, Cardiff and Vale of Glamorgan Shared Regulatory Services in the end.
Presenting the highly commended award, the ACG said that the Consumer Fraud Team had 'achieved significant results in tackling intellectual property crime in rural mid Wales and across the UK'.
They added that the team had 'conducted a number of large scale and high quality investigations, crossing regional boundaries. The high level of intelligence logs they have achieved, resulted in viable and successful court cases. They have made a huge impact and work hard to unravel every last piece of intelligence to ensure related authorities are satisfied'.
Cllr James Evans, Cabinet Member for Trading Standards, said: "I'm delighted that we have received this commendation, which shows that the industry recognise the work that we carry out.
"This is a prestigious national award achieved by a small team who are really making a difference in tackling a shadow economy where organised crime gangs operate.
"I would like to thank our many partners including Littleton Murdoch Limited, Dyfed Powys Police, HMRC and GAIN. This award would not have been possible if it wasn't for the work and support they have provided in out fight against the counterfeit trade in the county."