Seren Network Conference hosted in Powys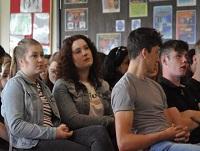 25th June 2018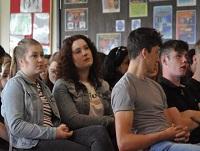 Crickhowell High School played host to around 100 of the brightest sixth formers from schools and colleges from across Powys, Neath Port Talbot and Bridgend earlier this month.
The school hosted the Welsh Government's latest Seren Network Conference which gave the students insights and advice on applying for the best universities in the UK.
Jackie Parker is Headteacher of the school: "We were delighted to host the conference again as I think it is so important that our brightest pupils here in Powys schools are given every opportunity and as much support as possible to apply for Oxbridge or other Russell Group universities.
"Indeed, one of our speakers at this week's event was a former pupil of Gwernyfed High School - David Jones - who shared his experiences of getting into Cambridge to study Law," said Mrs Parker.
The students also received advice on drafting personal statements from Dr Jonathan Padley, of Cambridge University. They also received interview technique tips from Greg Scannell of the Brilliant Club, a charity which aims to encourage students from under-represented backgrounds to apply for the top universities.
Cllr Myfanwy Alexander is the council's Cabinet Member with responsibility for Learning and the Welsh Language and she commented:
'The Seren Project supports our More Able and Talented pupils in Powys, ensuring that their aspirations are commensurate with their abilities.
"Young people from Powys already achieve admission to top universities, in Britain and beyond and this scheme ensures that more pupils avail themselves of these opportunities," she added.
To find out more about the Welsh Government's Seren programme, visit https://gov.wales/topics/educationandskills/learningproviders/seren