RAF Ensign raised at County Hall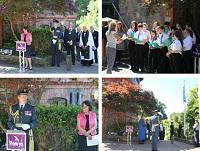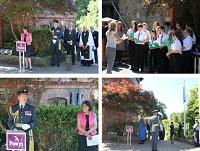 A ceremony to mark 100 years since the creation of the world's first independent air force has taken place in Llandrindod Wells, the county council has announced.
Powys County Council held the ceremony in Llandrindod Wells this week (Tuesday, June 26) to mark the 100th anniversary of the Royal Air Force (RAF).
The RAF Ensign was raised at County Hall by members of Knighton's Royal Air Forces Association, the Llandrindod Wells Branch of the Royal British Legion and Llandrindod Wells' Air Cadets - Squadron 579 to mark the occasion.
As part of the ceremony, Llandrindod High School choir performed to dignitaries and guests while pupils from the school's sixth form recited poetry.
Air Commodore Adrian Williams, the senior RAF Officer in Wales, gave a speech at the ceremony before taking the salute as the RAF Ensign was raised.
Cllr Rosemarie Harris, Armed Forces Champion and Leader of Powys County Council, said: "Powys has a long association with the armed forces so I'm delighted that we have celebrated the centenary of the RAF by raising the Ensign at County Hall.
"Powys is proud to be a training area to test the skills of some of the best air personnel in the world."