Full house for Book Bingo promotion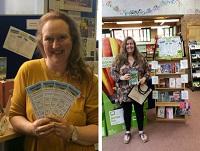 28th June 2018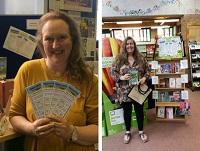 Book lovers are being invited to explore new reading genres over the summer months at their local library with a 'Book Bingo' promotion which could see them pick up a prize too.
Those participating are encouraged to read a book from each square on a bingo type bookmark provided by their local library. Each square suggests a new genre to choose and read. The librarian ticks off the relevant square once that book has been finished. When the card is full the reader will be entered into a prize draw.
Aundrea O'Neill from Llanfair Caereinion said: "Book bingo encourages you to read materials from each of six categories. So, reading glasses at the ready, I took up the challenge and I can honestly say I enjoyed every minute of what turned out to be a great literary adventure. I read translated books, local authors, poetry, prize winning fiction. I downloaded borrow box (which I am now addicted to) and which opens up yet more reading options and even talking books. I learnt more about local history, and language and I fell in love with Dylan Thomas all over again. It seemed like a small challenge, but it opened up a huge world of fiction."
Another avid reader, Bernadette Willis - a recent participant from Newtown said:
"The whole challenge of 'Book Bingo' has been an interesting experience, pushing me to read beyond my comfort zone, but in particular, the discovery of the e-audio books has opened up new horizons."
The choices offered are books translated from another language, reading a prize winning book, a book turned into a movie, e-books, poetry or a book from a local author. These are available in local libraries or on our online catalogue at www.powys.gov.uk/libraries where they can be downloaded onto your computer device or held for collection.
Cllr. Myfanwy Alexander portfolio holder for Education as well as a successful local author who recently visited Newtown library to talk about writing novels said:
"This scheme challenges residents to find out more about the treasures available to read in their local library."
The book bingo promotion provides an adult alternative to the Summer Reading Challenge which encourages children across Powys to read over the holidays and win various prizes along the way.