Young writers make comic mischief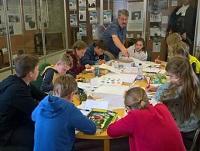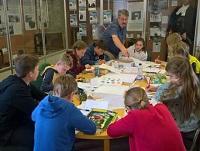 Brecon library played host recently to a comic mischief writing event for the South Powys Readers & Writers Squad where children aged 7 to 14 spent a Saturday morning having fun developing stories based on characters from the new Summer Reading Challenge which will be launched in July as Powys schools break up.
The pupils - drawn from different schools in the area - focussed on the Summer Reading Challenge theme 'Mischief Makers', with old favourite 'Beano' cartoon characters like Dennis the Menace, Gnasher and Minnie the Minx. The young writers used their imagination to develop new storylines for the characters and then made up a simple cartoon strip.
Artistic help was at hand with library staff member and local artist, Rob Davies - who provided the children with tips on how to illustrate their characters and lay out their story in a cartoon style.
Councillor Rachel Powell, Portfolio Holder for young people, culture and leisure said: I'm pleased to see the 'Readers and Writers Squads' focus on this year's Summer Reading Challenge theme of 'Mischief Makers'. Comics and their characters can be influential in a child's reading and writing development. Getting them to produce their own comic strip really helps children to develop their creative thinking skills."
Rachel Owen, Literacy/English practitioner for Powys Local Education Authority commented: "What a great way to get young people to tap into their imaginations and share their ideas on paper. The session also introduced them to editing their work to fit the format of a cartoon strip. The act of using illustrations to help with their main character's personality made the session all the more fun."
Children from the North Powys Readers and Writers Squad have also met in Newtown to try their hand at developing their own carton strip and make new friends along the way.
The Summer Reading Challenge will be starting on the 7th July at all libraries across Powys. Children from 5 -12 years are challenged to read 6 books over the holiday - with stickers, medals and certificates to gain on the way and prize draw and free family swim vouchers for those that finish.
For more information on the Powys Readers and Writers Squad contact Rachel Owen on 01874 612146.