Shared use bridge proposal for Newtown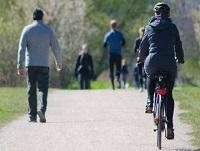 9th July 2018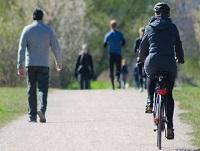 A shared use cycling / walking bridge could be built as part of a county council proposal to boost active travel facilities in a north Powys town.
Powys County Council's Active Travel Team are currently exploring a proposal which would see a new active travel bridge built over the River Severn linking Newtown's Canal Road and Pool Road for pedestrians and cyclists.
The team are finalising the proposal before it is submitted to the Welsh Government, who will decide whether the proposal meets their Active Travel funding requirements.
This is part of a Welsh Government funding commitment to boost levels of active travel across Wales in line with the Active Travel (Wales) Act 2013.
Cllr Phyl Davies, Cabinet Member for Active Travel, said:
"We are committed to improving the health and well-being of our residents, reduce congestion and improve the environment and our active travel plans will help make this a reality.
"A great deal of work has gone into developing active travel facilities in Newtown but our proposal for a cyclist/pedestrian bridge, which residents of Canal Road and Llanwchaiarn would benefit from, would be a massive boost for the town.
"We will submit our proposal to the Welsh Government and we hope that they can see the benefits that it will bring and support it.
"If the proposal is successful we are keen to work with local residents and stakeholders to help shape the design."