Works underway to deliver safe routes in Knighton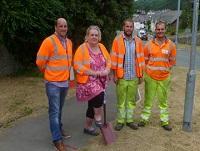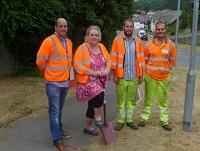 Works to create safe routes for cyclists and pedestrians in a mid-Powys town have started, thanks to a £322,000 investment.
Powys County Council has started to create the routes in Knighton yesterday (Monday, July 9) as part of the town's Safe Routes in Communities scheme.
The scheme, which is being funded through the Welsh Government's Safe Route in Communities grant, will create a safe route to Knighton Primary School for pupils. It will also improve active travel links for many residents of Knighton to the leisure centre, bus stop, community centre and library and towards the town centre.
The proposed route has been designed through extensive stakeholder engagement when the council's Active Travel Team developed its Integrated Network Map. Knighton Town Council and the primary school also provided valuable input into the design of the proposed route.
Cllr Phyl Davies, Cabinet Member for Active Travel, said: "We are committed to promoting walking and cycling in communities by improving local provision. These works in Knighton follow closely on from the completion of the Safe Routes in Communities Scheme in Presteigne earlier this year, which has been well-received and is being well-used.
"This scheme will be the first formal active travel route in Knighton but it is only the first stage. Our ambition is to create a full active travel network connecting all areas of the town.
"These works will be completed this financial year and I hope that the community will embrace the new routes and choose to walk or cycle for short journeys within the town once they are constructed."
Cutting the first piece of turf to mark the start of the Safe Routes in Communities scheme in Knighton is Cllr Ange Williams, county councillor for Knighton. Also pictures are (from left) Cllr Phyl Davies, Cabinet Member for Active Travel; Phill Harris and Ryan Davies from the council's Highways, Grounds and Street Scene team.