Bell ringing taster session to be held in Brecon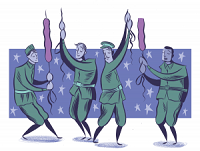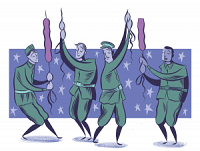 A project looking to recruit new bell ringers to commemorate the bell ringers who died in World War One is will be holding a taster sessions in a Brecon church later this month.
Ringing Remembers has arranged the sessions in the tower of St Mary's Church in Brecon for Saturday, July 21. There are four sessions that day and will take place at 10:15am, 11:30am, 2pm and 3:15pm.
The sessions will give people the opportunity to see the bells and for them to try their hand at learning to ring. An information point about Ringing Remembers will be held at the church.
Ringing Remembers, which is being supported by the Powys War Memorials Project, hopes to have 1,400 new bell ringers ready of the Armistice in November, where they will join others across the nation to mark the centenary of the end of World War One.
Kath Johnson from Ring Remembers, said: "Among the many who died in World War One there were 1,400 who were bell ringers. A hundred years later the worldwide community of bell ringers has decided to honour their memory by recruiting and training 1400 new bell ringers in a special project called Ringing Remembers.
"Some of those who died came from the area that is now Powys and the bell ringers of the county are already recruiting new ringers ready to ring on November 11 in commemoration of the end of the war. But we need more and you could be one of them.
"The British Isles are home to a particular style of bell ringing called 'change ringing' which is used to mark personal rites of passage like christenings, weddings and funerals and to celebrate civic and national events. Although bells are mainly in church towers you don't have to go to church to be a bell ringer. Ringers are a friendly and welcoming community of all ages and backgrounds and of all faiths and none."
To find out more and to book a place on Saturday, July 21 July please contact Kath Johnson by email at pckmj@tiscali.co.uk or by phone on 01874 658670. For more information on Ringing Remembers email bells@big-ideas.org.
The Powys War Memorials Project, which is being hosted by Powys County Council, commemorates the centenary of World War One, and has been funded by the Heritage Lottery Fund, Cadw and the Brecon Beacons National Park Authority.
The project can also provide funding for community training, such as how to research the names on war memorials or how to set up a website to record names on war memorials. The project also supports communities to develop World War One heritage walks and facilitates community events linked with World War One.
For more information about the Powys War Memorial Project, contact Nathan Davies, Powys War Memorials Project Officer by emailing warmemorials@powys.gov.uk or calling 07973 973 687.