New school taking shape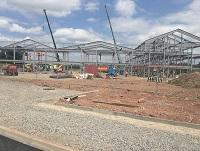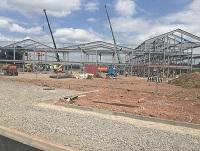 Brecon's new high school is taking shape with the foundations complete and the steel work in place with the work providing a real boost to the local economy.
The joint funded project between the Welsh Government and Powys County Council is on track to open in the autumn term of 2018.
The foundation stone has been sourced from Builth Wells Quarry and the main contractor on site is John Jones Groundworks from Builth Wells. Mr Jones's business is a family run business that is delighted to have been awarded the ground work contract on the site.
Welsh steel started arriving on site earlier this month to mark an important stage in the construction of the new 11-18 750 pupil school.
Work on the multi-million pound campus got underway in March and is being carried out by Bam UK Construction. The new school will deliver 21st Century learning with the most up to date teaching resources to aid in exciting learning opportunities for Brecon learners. BAM are making significant moves to employ local contractors and labour. They are working with Powys County Council's Education Department and the Local College to promote opportunities to learners to gain construction experience and learn about careers in the construction industry. This is an exciting time and opportunity for Powys Learners.
BAM's community benefit manager, Adam Cox is working up an exciting community benefits scheme so the whole of the Brecon community can benefit and get involved.
Councillor Myfanwy Alexander, Cabinet Member for Education said:
"This project shows Powys County Councils vision for the learners of Brecon but also for the local economy with opportunities for local companies to benefit from this major investment."
Cabinet Member for Regeneration, Councillor Martin Weal said: "It is important that when the county council undertakes large capital projects like the provision of a new school that as much of the budget is spent within the county.
"Powys is one of the biggest spenders in the county and it is import for our local companies that as much money as possible is kept within the local economy. We have to balance value for money against supporting the local economy.
"The replacement of a secondary school gives us a chance to support local jobs, create new opportunities and provide apprenticeship opportunities. It is a win-win situation for the county," he said.