Local information at your fingertips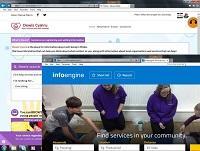 24th July 2018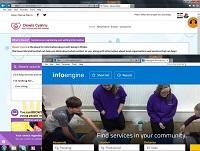 An innovative service allowing the sharing of well-being information by voluntary organisations and local authorities in Wales is now operational.
Technological improvements now mean that information can be shared between two different systems:
Infoengine operated by voluntary and community organisations and
Dewis Cymru developed on behalf of the country's 22 local authorities.
Cabinet Member for Adult Services, Councillor Stephen Hayes:
"This is an excellent example of practical collaboration between the third sector and the public sector in Wales, making sure that vital information is readily available to those that need it.
"The system means that information about well-being services is available to everyone regardless of where the information was original entered. It is collaboration between services at its best."
Infoengine is an online directory of third sector services in Wales. It is provided and supported by Third Sector Support Wales, a partnership of County Voluntary Councils and the Wales Council for Voluntary Action. It has over 4,000 services offered by voluntary organisations and community groups. This number increases daily.
Dewis Cymru is a website providing information about well-being in Wales. The website is developed by Data Cymru on behalf of the 22 local authorities in Wales. It contains a resource directory of over 6,000 local and national organisations and services including local authority services, community groups, voluntary organisations and businesses.
Infoengine adds to this a comprehensive set of information about third sector services making it a unique source of information for use across Wales. It also includes a set of information pages designed to help people think about 'what matters' to them, and helps them find local, practical support.