Powys Business Breakfast Networking 2018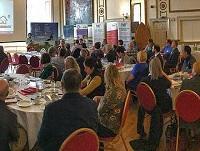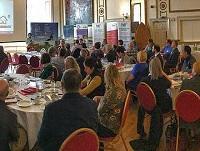 Successful Powys business breakfast events will be held again in the autumn after a positive launch, Powys County Council has said.
A series of early-morning events were held across the county giving local businesses an opportunity to meet up with the council, Welsh Government, business advisors and support organisations to discuss business opportunities.
The events proved so popular and well supported with nearly 200 local businesses attending that the county council has been asked to organise more.
They included an update on how the council is reviewing its purchasing processes to increase the proportion of spend with local businesses, with Business Wales on-hand to explain its approach to providing support to local businesses.
Cabinet Member for Regeneration, Councillor Martin Weale said: "We wanted to provide a networking opportunity for local businesses to come together, meet other business owners in a friendly informal setting, hear what others are doing, make connections, share knowledge and learn from other's experience.
"It gave business owners a chance to build stronger local links, not only with local businesses, but also with the council departments that could help them. They were able to meet with Welsh Government and regional Business Support organisations who can help them grow their business."
"The economy is a priority in the cabinet's Vision 2025 and the breakfast meetings were important part of strengthening the council's links with local businesses and we look forward to autumn series building on that success."
Business support experts representing Heart of Wales Business Services, Business Wales, Superfast Business Wales, Federation of Small Business, Mid Wales Chamber, Mid Wales Manufacturing Group, NPTC Group Business Services and Development Bank of Wales also gave free one to one advice to businesses. Powys County Council's Commercial Services team were on hand to talk about local opportunities for selling to the Council.
Businesses can register an interest for the new autumn events online using the following link: https://www.growinpowys.com/pbbn2018. Or by contacting the council's regeneration team at regeneration@powys.gov.uk