Silver Kite awards for Jayne and Emma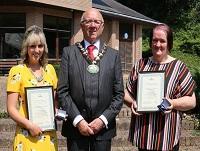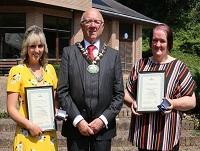 Two Powys women have been awarded Silver Kites by the Chairman of Powys County Council.
Jayne Griffiths, from Llanyre, and Emma Haines, from Llyswen, both received a Silver Kite and a Certificate of Appreciation by Cllr David Meredith last month (Friday, July 6).
The presentation took place during National Democracy Week, which saw the council celebrate influential and inspirational women in Powys.
Mrs Griffiths was presented with the award in recognition of great and valuable her services to the community. She turned Llandrindod Wells pink recently for Cancer Research UK and as in her role as community champion, Mrs Griffiths works with local charities including Llandrindod Wells Food Bank, MIND, the Bracken Trust and the local leg club.
Ms Haines was presented with the award honour and recognition of her success in prestigious hair and beauty award. The beauty therapist, who has been running her business for more than nine years just outside Llyswen, picked up the Masseuse of the Year at the 2018 Wales Hair Beauty Awards in March.