Almost £1m in active travel grants awarded to Powys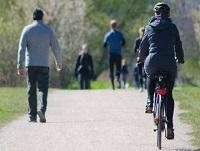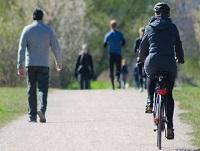 Plans to improve active travel schemes in two Powys towns have received a huge boost thanks to a near one million pound grant from the Welsh Government.
Powys County Council's Active Travel Team has been successful in securing £950,000 from the Welsh Government's Active Travel Fund to improve active travel facilities in Newtown and Presteigne.
The council has received £550,000 for the first phase its active travel plans for Newtown, which will see a bridge built over the River Severn linking the Canal Road and Pool Road in the town for pedestrians and cyclists.
Active travel facilities in Presteigne will be expanded after the Welsh Government agreed to provide a £400,000 grant. The latest grant for Presteigne follows on from the success of the town's Safe Route in Communities project, which was completed earlier this year, and has seen huge support from the community with more residents now deciding to walk or cycle using the new paths rather than driving a vehicle.
The Active Travel Fund is part of the Welsh Government funding commitment to boost levels of active travel across Wales in line with the Active Travel (Wales) Act 2013.
Cllr Phyl Davies, Cabinet Member for Active Travel, said: "I'm delighted that the Welsh Government has awarded this funding from their Active Travel Fund.
"We are committed to improving the health and well-being of our residents, reduce congestion and improve the environment. This funding will allow us to make our active travel plans for these town a reality.
"A great deal of work has gone into developing active travel facilities in Newtown and Presteigne but this funding will enhance the facilities immensely.
"I would like to thank the Welsh Government for supporting our proposals and providing the grant funding. We will now work with local residents and stakeholders from both towns to help shape the design of these schemes."