More improvements carried out on Black Yatt byway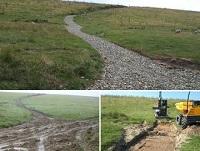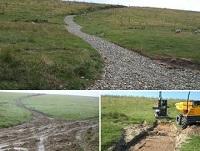 Improvement works have been carried out on a byway after a section of it got badly worn, Powys County Council has said.
The council's Countryside Service Team has overseen more works on the Black Yatt byway between Llanfihangel-Nant-Melan and Glascwm.
The latest works to the very northern section of this popular byway, near to Foice Farm, Llanfihangel-Nant-Melan, where it links into another byway. A short section of bank had become badly worn with deep ruts, preventing users from accessing along the route.
Local contractor RF Price carried out the works, scrapping the soft mud out and compacting crushed stone to form a track up this steep section. Further works were also done to clean out the existing drainage channels on an adjacent section of byway, helping to maintain a popular part of the network in the heart of Powys.
Earlier this year, works were carried on another part of the byway which included reinstating drainage channels and installing bunds to direct water straight across and away from the byway surface.
Cllr Aled Davies, Deputy Leader and Cabinet Member for Countryside Services, said: "The latest works along this byway will be welcomed by those who travel along it on a regular basis. The surface is now in a much better condition for all users and greatly improves this popular route.
"The importance of maintaining our rights of way network shouldn't be underestimated. Our public rights of way network can play a vital role in maintaining the health and well-being of the people of Powys."