Works carried out to byway near Llandegley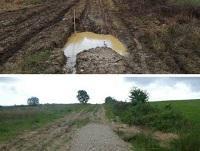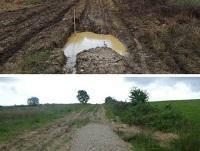 Repair works have been carried out to a byway in mid Powys after the county council received reports from a landowner about its condition.
Powys County Council's Countryside Services Team have completed works on the byway (CR127) near Llandegley after a number of holes had formed on its surface.
The landowner reported the condition of the byway on their land, which is classed as a Byway Open to All Traffic, in December 2017. The holes in the surface of the byway were up to 1m deep and several metres long with users of the byway going around the hole and damaging a wide swathe of land.
A temporary closure of the byway was put in place over the winter to prevent further damage while the council consulted with the landowner, the Welsh Government and the Powys Byways User Group (PBUG) to organise repairs to the damaged areas.
Works to repair the byway were carried out in June when local contractor Mervyn Price spent a week scraping the centre line of the track, clearing drainage channels and pipes and importing over 125 tonnes of stone to repair the large holes in the byway surface.
Following discussions, with PBUG, the Green Lane Association (GLASS) kindly agreed to fund half of the cost of these works.
Cllr Aled Davies, Deputy Leader and Cabinet Member for Countryside Services, said: "I would like to thank the landowner and partners for their input which allowed us to organise the repairs to this byway. I would also like to thank GLASS who kindly agreed to fund half of the cost of the works.
"The works has allowed us to lift the temporary closure earlier than originally planned, which means that this popular byway is once again available for all user groups to enjoy.
"The repair works will allow the adjacent heathland, which had become badly rutted, to regenerate and help to improve the biodiversity of the area."