Learning about improving our digital economy from West Cork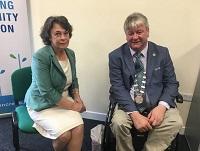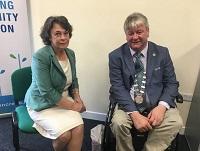 A delegation from Powys County Council recently visited West Cork to learn how the area has been successful in bringing superfast connectivity to a rural setting.
Businesses, communities and public services have helped other local businesses change the way they work while also developing a programme to create sustainable, well paying, high-tech digital economy jobs.
Delegates learnt how a joint focus on the digital economy is encouraging experienced people to migrate or return to the area, as well as creating opportunities for young people who want to stay.
Executive Leader, Rosemarie Harris, said:
"I am very grateful to Dr Kay Swinburne MEP who invited us on the visit. With significant financial challenges facing the council, it would not have been possible to undertake the visit and learn from these leading edge, nationally recognised initiatives, without this EU support.
"I am also very grateful to everyone we met over the two-day visit in West Cork for sharing how they are harnessing the digital economy for the benefit of all in their area. The learning visit has given us a unique insight that will help us in how we develop our approach in Powys.
"The digital economy affects all aspects of society, including the way people interact, the economic landscape, the skills needed to get a good job, and political decision-making. Globally, the emerging digital economy has the potential to generate new scientific research and breakthroughs, create job opportunities, stimulate economic growth, and improve how people live their lives.
"Within this increasingly digital environment, Powys County Council has recognised that we must keep pace with technological developments and change. Part of that is learning from others.
"We want to provide excellent digital services. Superfast connectivity is fundamental to the economic development of the county, that is why it's a key objective of Vision 2025 (the council's corporate improvement plan).
"During the visit we met with:
Patrick Gerard Murphy - Mayor of County Cork
leading politicians and
senior Cork County Council officers
They explained about the community driven Brookpark Enterprise Centre and how the council is at the heart of facilitating and enabling economic development in the region.
I am grateful to the Mayor and all concerned for sharing lessons on obtaining funding, involving communities and overcoming barriers.
"In Skibbereen we met with:
the CEO of the Ludgate Hub
Adrienne Harrington,
board members
They were instrumental in bringing a 1000MB connection to the town to make it Ireland's first 1 gig rural town which utilises digital connectivity for job creation and innovation.
"What has been achieved in Skibbereen is staggering and I am immensely grateful to Adrienne Harrington and the board for showing us how super high speed broadband can be a catalyst for regeneration in a rural area.
"The Ludgate Hub became Ireland's first digital hub for tech start-ups, allowing entrepreneurs to work alongside one another in a facility that combines:
office space,
state-of-the-art video conferencing
access to fast-fibre broadband,
as well as the opportunity to link up with academic partners and their research.
Their objective is to facilitate up to 500 direct jobs and 1000 indirect jobs via a sustainable digital economy for Skibbereen and the wider West Cork area.
"The Ludgate Hub works in conjunction with local businesses and we were able to meet with Spearline (a tech company serving a wide global client base), ODonnell Furniture (a bespoke furniture maker for leading hotel brands), as well as Morgan O'Driscoll a local art auctioneer. The 1 gig connection has transformed how they do business.
"During our visit we were also able to see how digital is being picked up in the local secondary curriculum, visit a new school campus as well as meet with senior Vodafone and Siro partnership executives.
"I am confident that the visit marks the beginning of a long and productive relationship between our councils, businesses and communities."
Dr Kay Swinburne MEP said: "Building a sound digital economy and creating opportunities is a key priority for Wales, and work must be done to ensure that where rural communities around Europe face similar challenges, the sharing of best practice between is fully encouraged. That's why I'm so grateful to the staff of the Ludgate Hub for agreeing to meet with myself and members of Powys County Council. To allow us an insight into how their work has thrust Skibbereen onto the forefront of digital innovation in Ireland, and how similar initiatives might be replicated elsewhere in Europe.
Becoming a Gigabit Society by 2025 is doable by following the European Commission's 'Broadband Europe' strategy published in 2016.
It is cross-border cooperation such as this that will turn that ambition into a reality."