Volunteers improve rights of way network around Old Radnor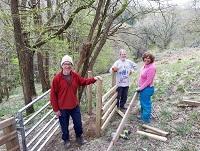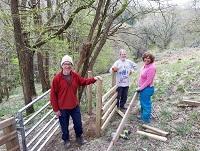 Improvement works to a rights of way network in mid Powys have been carried out thanks to the efforts of volunteers, the county council has said.
Members of Powys Countryside Volunteers have improved the network around the Old Radnor area.
The improvement works have been carried out after the volunteers carried bridge surveys across the area, which highlighted that some minor works were needed to a number of wooden bridges in the Old Radnor area.
Powys County Council's Countryside Services Team contacted the landowner to discuss access for the bridge repairs and the possibility of replacing old worn stiles with self-closing gates.
With the landowner agreeing to a series of improvements in the area, volunteers carried out 71 hours of works over three days repairing two wooden bridges, replacing three siles with pedestrian gates and installing seven steps to improve public access near to the Woodland Trust's Llanhaylow Wood.
Cllr Aled Davies, Deputy Leader and Cabinet Member for Countryside Services, said: "The work of volunteer teams is essential to ensuring that our rights of way network remain safely useable and becomes more invaluable to the community.
"Without the vital help of local volunteers, many of whom are also members of Powys Ramblers, the costs of these improvements would be significantly more.
"Volunteering with Powys Countryside Services not only provides the practical improvements in the countryside but it is also good for people's physical health and are enjoyable social occasions."
If you are interested in getting involved with the Powys Countryside Volunteers, please get in touch with the council's Countryside Services team online