Ysgol Calon Cymru welcomes pupils to the new school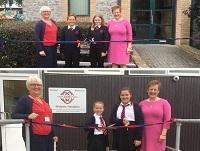 Ysgol Calon Cymru has welcomed pupils to the new school which opened on Thursday 6th September 2018.
Ysgol Calon Cymru operates from the former sites of Llandrindod High School and Builth Wells High School, and provides education for 11 - 18 year olds. It is a bilingual school with English medium provision on both campuses and Welsh-medium provision on the Builth Wells campus.
Mrs Ionwen Spowage, the head teacher, was at both campuses to welcome the pupils to Ysgol Calon Cymru and said: "At Ysgol Calon Cymru we will be bringing our two communities together to provide really high quality education in Mid Powys. We will be offering access for additional learning opportunities to 'retain learners in Powys."
Year 7 pupils at both campuses were invited to 'cut the ribbon' to open the school.
Cllr Myfanwy Alexander, Powys County Council's Cabinet Member for Education, said: "I am delighted to note this important day with the opening of Ysgol Calon Cymru, a new school for the young people of central Powys. Building on the strengths of the teams in Builth and Llandrindod, Ysgol Calon Cymru will provide top quality education into the future."
Sharon Hammond, Chair of the temporary Governing Body of Ysgol Calon Cymru, said: "The opening of Ysgol Calon Cymru - the School at the Heart of Wales - offers exciting new opportunities for our learners and is a tribute to the hard work of staff, pupils, governors and the wider community in preparation for this day."