Volunteers wanted for exciting new rights of way project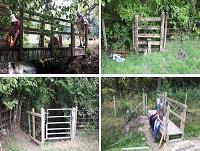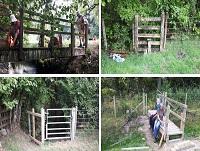 Volunteers are wanted for a new team which will improve the rights of way network in a north Powys town, the county council has said.
Powys County Council's Countryside Services Team, in partnership with Welshpool Town Council and Ramblers Cymru, are setting up a volunteer team to work on the rights of way network in Welshpool.
In a bid to recruit volunteers, a recruitment day has been arranged at Welshpool Town Hall on Tuesday, September 18 from 10am-7pm where anyone thinking of joining can speak to representatives from the three organisations.
The partnership aims to create the volunteer team to co-ordinate and carry out maintenance on structures such as pedestrian gates and stiles.
The council's Countryside Services Team will oversee the project and provide training and technical support. Welshpool Town Council will provide day-to-day support and storage space for materials while Ramblers Cymru will be funding hand tools and a trailer.
To start the project off, a number of routes of varying lengths have been identified and, once worked on, leaflets will be designed and printed to promote the routes.
Cllr Aled Davies, Deputy Leader and Cabinet Member for Countryside Services, said: "Welshpool has over 50 miles of public rights of way that stretch out to the surrounding communities. Many structures on the rights of way network in and around Welshpool are now 30 years old and in poor repair.
"This is a fantastic opportunity for local residents to help improve the rights of way network in and around Welshpool and make a real difference to countryside access in this part of Powys. You will be rewarded with a real sense of achievement and a reminder of your contribution to the community every time you use that path."
Mayor of Welshpool, Cllr Steve Kaye, said: "The Town Council is pleased to be working with Powys County Council on this project and we look forward to improved footpaths and rights of way into the future. The Town Clerk and Staff will be looking to provide practical support with storage and other facilities. We encourage anyone interested to support the project and attend the first open day."
Olie Wicks, Walking Spaces Officer for Ramblers Cymru said: "We want communities like Welshpool to have walking at their heart, and for local people and visitors to get the best from the outdoors. Welshpool has a fantastic natural environment for walking and we hope we can encourage people to explore and help protect their local green spaces."
"Welshpool Ramblers are delighted to give their support and hope that it will encourage more people to walk in this beautiful area"
If you are at all interested in getting involved with this project, contact the council's Countryside Services Team via rightsofway@powys.gov.uk or 01597 827500.