Reading Well Books on Prescription for dementia available in Powys Libraries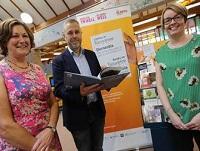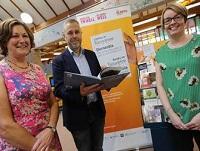 A series of books designed to help people with dementia - and their carers, friends and family - are now available from libraries in Powys as part of an all-Wales scheme.
The books are provided via a multi-agency partnership with funding from Welsh Government, through the Reading Agency's 'Reading Well Books on Prescription' scheme.
Powys County Council's Library Service - which has had strong links with raising dementia awareness in the past - has two complete sets of the Reading Agency's recommended books, which will be in hosted in Newtown and Brecon libraries.
The books are also available for anyone to request through the online library catalogue system or at a local branch library, and are complemented by a range of other suitable titles which are already in library stock. The Reading Agency is also working with the Welsh Books Council to translate books on the list into the Welsh language.
Leaflets and posters are also being made available to signpost people living with or caring for people with dementia in our communities to the booklist, which also contains useful information and sources of advice.
Cllr Elwyn Vaughan is the council's dementia Champion. He commented: "I'm really pleased that we're doing this here in our libraries in Powys. Since it was launched elsewhere in the UK, Reading Well has reached some three quarters of a million people and has been endorsed by the public, by GPs and other health professionals as well by central government as a helpful community-based health service. I'm looking forward to it helping our people here in Powys."
Cllr Rachel Powell, is the Council's Cabinet Member with responsibility for Libraries. She added: "This scheme underlines the benefits to our mental health and wellbeing of reading books. The list comprises advice guides for family, including children, and carers as well as personal stories of people who live with dementia. There's a tremendous amount of really good advice and information contained within these publications - and if you're not a member of a library yet, I would strongly encourage you to join."