Captain's Walk Gardens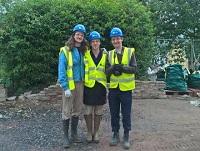 14th September 2018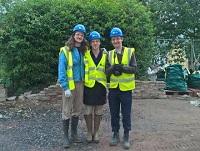 Award winning landscape designer brothers Harry and David Rich have teamed up with Powys County Council to provide a spectacular showpiece at Brecon's y Gaer.
The brothers, originally from Brecon, Powys, the youngest ever winners at the Chelsea Flower Show, have agreed to design a themed garden extravaganza in Captain's Walk alongside the town's renovated Grade II listed museum and new library that make up y Gaer which is currently under construction.
David states "We couldn't be happier to be part of the team involved in Captains Walk Gardens. Not only did we grow up around Brecon but our family has a lasting history and connection with the town, so it's lovely to continue our relationship with it.
Captains Walk Gardens has been inspired by the beautiful local landscape surrounding Brecon. From woodland, meadows and hillsides we have tried capturing its many habitats and incorporating them into a practical and family friendly environment. The Gardens will hopefully be a place of rest, activity, arts and culture in the future."
Cllr Rosemarie Harris is the council's Leader.
"y Gaer will be a tremendous asset for the people of Brecon so I'm extremely pleased that we have such high-profile designers on board. I'm really looking forward to seeing the results of their work."
Cabinet Member for Culture, Councillor Rachel Powell said:
"We are immensely proud that David and Harry Rich, two talented and passionate gardeners have agreed to design a special feature that will provide a spectacular attraction alongside our cultural showpiece.
"Plans for the work, will focus heavily on native plants and shrubs and I am sure will greatly enhance the cultural hub and provide a real boost for the town centre."
Lucy Bevan, the Council's Arts & Culture Commissioning Officer who is leading the y Gaer project commented: '
Harry & David's imaginative landscape designs for y Gaer development will transform Captain's Walk into a magical and accessible town centre garden environment where a multitude of activities can take place, from children's story telling and nature hunts to music and performing arts events. y Gaer is a significant capital project for Powys, the gardens will add a lively and enchanting flourish to the experience on offer for the community and visitors to Brecon."
Plans for the garden were approved by Brecon Beacons National Park planning committee earlier this year with work scheduled to begin this autumn.