John's new lease of life thanks to vital organ donation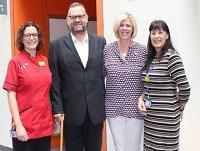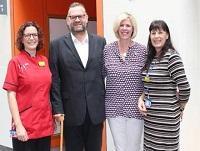 A HR Manager from Powys has been sharing his remarkable story of organ donation in a bid to encourage more people consider becoming a living donor.
When John Bevan - Acting Head of Workforce and Organisation Development at Powys County Council - was told he needed a kidney, his wife Ceri was in no doubt that she was prepared to donate him one of hers and last Christmas it became her gift to him.
John was initially diagnosed as being in end stage renal failure in January 2016 and was presented with the options available to him.
"We decided to go for dialysis treatment until a donor was available," John said. "Ceri had already indicated that she would be willing to donate one of her kidneys and testing to see if she was suitable started immediately."
The testing process took about eight months and in March 2017 the couple were informed that Ceri would be able to donate her kidney but that they weren't matched on antibodies, so there was a chance someone else would be a better match for the procedure and John was put on the transplant waiting list, with the possibility of his wife's organ being used as part of a paired pool donation.
Initially the couple were successful in being matched with other recipients through the UK donor pool - where pairs of recipients and willing living donors such as couples like John and Ceri are put into a pool alongside each other to increase their chances of finding a suitable match.
A date had been arranged and the transplant was due to go ahead with three pairs in the pool but unfortunately the procedures were cancelled when one person was too unwell for surgery. The same happened a second time a match was found through the paired pool process of matching recipients and donors.
This meant the couple and their clinicians reconsidered the way forward and it was decided to go ahead with Ceri's kidney and in December 2017 the transplant went ahead and they were both home in time for Christmas.
Ceri said: "I just watched him going downhill and he was spending so much time in hospital and my motivation was to see him better. It's only because we thought he would get a better match that we went for the shared pool. Recovering from the surgery was a bit uncomfortable, but the product at the end was seeing John better."
And the transplant has given John a new lease of life. He said: "My kidney function is working really, really well. Ceri gave me a good kidney. I've been up to 80% of capacity, and I was at 3% prior to the transplant, so my whole life is different. And Ceri is doing well.
"I was constantly feeling pretty rough before, but while I have been left with some issues as a consequence of my kidney failure, which are being investigated by the medical team, I am feeling much better. And I can eat foods pretty unrestricted again."
The couple were also able to take a landmark holiday this summer.
"Life had been on hold really, going away would have been a huge effort and John was so tired all the time so we decided to stay put and stay safe and close to the hospital," Ceri said.
"Going on holiday after the transplant was a landmark for us and we got up Mount Vesuvius too, so did really well. I was turning 50 and our 25th wedding anniversary was coming up so it meant a lot."
The couple said they could not have got through the time John was on dialysis and surgery without the support of their employers, colleagues and people around them. They also felt supported by the team involved in their care.
John added: "I can't think of anything nicer and more generous and loving than to give your spouse a kidney, and Ceri thinks the same."
To find out more about becoming a living donor visit https://beta.gov.wales/living-donation-campaign