Trade waste fine for Knighton business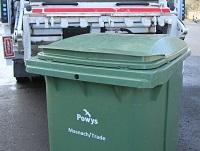 Businesses in Powys are being reminded of their legal obligations to dispose of their trade waste correctly by the county council.
Powys County Council's Waste Awareness and Enforcement Team has issued the reminder after a rural business near Knighton was issued with a £300 fixed penalty notice for failing to produce the relevant documentation for the removal of their trade waste.
The fixed penalty notice was issued after the council's recycling crew reported significant volumes of recycling being put out for the domestic collection each week.
A waste enforcement officer investigated which revealed significant amounts of commercial activity taking place at this site.
The business was requested to provide waste transfer notes to show where their waste was being taken but they failed to produce the relevant documentation and received a fixed penalty notice, which has been paid.
Any waste or recycling produced by businesses is classed as commercial. Businesses including self-catering holiday accommodation providers have a legal duty of care to store, transport and dispose of their commercial waste in a professional manner.
Cllr Phyl Davies, Cabinet Member for Recycling and Waste, said: "We want local business to thrive in Powys but to do this we need to ensure that all businesses are complying with the law.
"It is vital that all businesses are aware of their legal responsibilities surrounding proper storage, transportation and disposal of controlled waste. Waste is tightly regulated for a good reason.
"Our team take an intelligence-led approach to verify that waste is not being disposed of illegally but we can carry out spot-checks on business at any time so it is important to make sure businesses keep their paperwork in order.
"Ultimately this will help to protect the environment and public health by making sure all commercial refuse and recycling is only handled by professional operators so we can be sure that it doesn't end up in the wrong place."
For more information about your commercial waste and free advice and support about your legal duties visit www.rightwasterightplace.com or www.powys.gov.uk/en/bins-rubbish-recycling/trade-waste-and-recycling/