Day centre scoops social enterprise award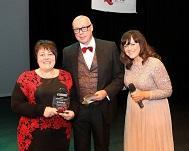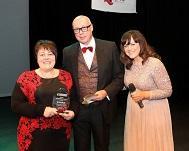 The East Radnor Day Centre (ERDC) in Presteigne has taken top honours in the 'Social Enterprise/Charity Category at this year's annual Powys Business Awards.
The centre, which is part grant funded by Powys County Council, offers a safe environment for older people to socialise, meet up with friends both old and new whilst receiving care and support to meet their needs. Trained staff are able to support people outside of the centre with doctor's appointments, advocacy, shopping, transport and a 24hr rapid response via Careline should any member fall at home.
Beverley Baynham, a county councillor and chief officer at ERDC commented: "All the service users, staff & volunteers were absolutely delighted to win a Powys Business Award. The day centre is a registered charity that is not for profit, and prides itself in running in a business manner with a board of trustees.
"It's wonderful for someone to say well done, you're doing a great job! It makes all your hard work worthwhile.
"Future plans for the day centre incorporating many other care services are in discussions, and if we can secure funding, we hope to be able to expand to offer more services to meet our community needs."
Cllr Stephen Hayes, Cabinet Member for Adult Social Care said: "It was lovely to East Radnor Day Centre receiving public recognition of their good work.
"ERDC plays a key role in the provision of services in Powys, not least through the Home Support scheme, helping people to stay active and independent. The trustees, staff and volunteers can be proud of this accolade."