People power progresses Powys path project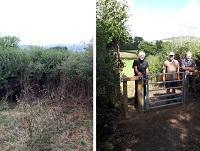 9th October 2018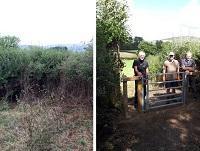 A new long-distance footpath is slowly winding its way across the county thanks to the efforts of a volunteer group and rights of ways officers, Powys County Council has announced.
The footpath is being developed which will follow the Heart of Wales line from Knighton on the Shropshire border to Crychan Forest on the Carmarthenshire border, which will link in to already open sections in these two neighbouring counties.
The project is being overseen by the Heart of Wales Line Trail steering group and funded by grants secured by the group as well as funding from the Welsh Government.
The route utilises existing public rights of way and quiet lanes to link up many of the stations on the Heart of Wales railway line to create a fantastic walking trail providing the flexibility of using the train to access various segments of the walk.
The project is providing people and resources to develop the trail on the ground. It has already enabled some often long forgotten public rights of way to be reinstated and promoted for the benefit of both Powys residents and visitors.
One such path between Penybont and Llandrindod Wells had lost all physical trace on the ground but still legally existed. Powys Countryside Volunteers had a very rewarding time clearing vegetation and installing new pedestrian gates to open this path up again.
Cllr Aled Davies, Deputy Leader and Cabinet Member for Countryside Services, said:
"This project is providing real benefits both for the volunteers involved in creating the route on the ground and, once fully opened, for the people of Powys and the visitors it will attract to the area.
"It passes through such a diverse and stunning cross section of the county with hidden gems around every corner, it won't fail to impress."
The Powys section of the trail is planned to be fully open by Spring 2019.