Maintaining Severn Way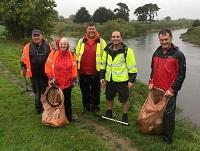 11th October 2018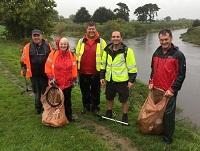 Maintenance work and litter-picking has been carried out on over 100 miles of a path that follows Britain's longest river, thanks to the efforts of countryside volunteers.
Powys Countryside Volunteers were joined by staff and politicians from Powys County Council and collected litter, refresh way-marking, adjusted gates and cleared vegetation along the Severn Way.
The work was carried out as part of the annual Countryside Volunteers Celebration event, which is organised by the council's Countryside Services Team to celebrate the efforts volunteers make in keeping the rights of way network open in Powys. This year's event took place last month.
29 volunteers and 11 people from the council were split into 12 teams and carried out the maintenance along the 59 miles of Severn Way, from the Source of the Severn near Llanidloes to the Powys / Shropshire border.
Volunteers and representatives from Shropshire, Telford & Wrekin and Worcestershire councils also took part in their respective counties and improved over 100 miles of the longest riverside walk in Britain in one day.
"We managed to mobilise volunteers along the entire length of the Severn Way in Powys and the event was a great success despite the poor weather," said Cllr Aled Davies, Deputy Leader and Cabinet Member for Countryside Services, who also took part on the day.
"I was very impressed by the level of enthusiasm of the volunteers. I would like to thank all of the Powys Countryside Volunteers for their hard work and efforts to help maintain our countryside access and rights of way.
"Access to our beautiful countryside is vital for the health and well-being of our residents and communities. And for attracting visitors to our county and the economic benefits that brings. We rely on the support of our volunteers and without it, the county would be far less accessible."