Successful baby book scheme set to expand across Powys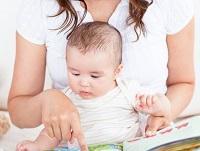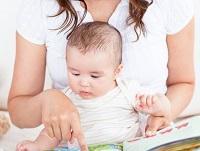 A book scheme provided by Powys County Council's Library service and the UK's largest reading charity BookTrust is set to widen its offer to more new parents and babies.
Due to its success and popularity among parents in a pilot scheme, the 'Babies First Shapes Book' scheme has now been expanded to all libraries across Powys.
The scheme, which introduces children and parents to books early, was originally promoted through just four libraries in Powys in 2017. New parents of babies aged 10 weeks and under were offered a free 'Baby's First Shapes book' when they enrolled as a library member.
Cllr. Rachel Powell is the Cabinet Member with responsibility for libraries: "I am pleased that this scheme, first piloted in Newtown, Llanidloes, Rhayader and Brecon has proved successful in encouraging parents to engage their children with simple shape books."
"More parents will now be able to get involved and will then have free access to the libraries' resources - including a range of board and picture books," added Cllr. Powell.
Helen Wales from Booktrust Cymru said: "We're thrilled to be working with Powys Libraries to give families in the region this special additional booklet to encourage parents to read and share books with their babies from the first few weeks of life. It's never too early to start! Sharing books and rhymes with even very young babies can support brain and language development.
"The Baby's First Shapes booklets are a great introduction to sharing books before families receive their Bookstart Baby packs at six months. We're pleased to be working closely with libraries who play a vital role in helping children develop a love of reading."