Message in a Bottle scheme helps save time for emergency services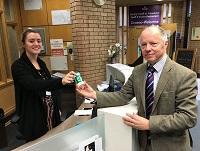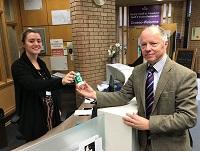 Residents in Powys are being encouraged to keep their personal and medical details on a single form, and stored in a common location that is easy to find thanks to a new scheme.
The 'Message in a Bottle' scheme is a simple idea that could save social work teams and emergency services time in finding out vital information should someone have a fall or become ill at home.
A small plastic bottle is placed in the fridge with your personal details rolled up inside. A sticker with a green cross is then placed on the fridge highlighting that vital information is stored inside.
Councillor Stephen Hayes, Cabinet Member for Adult Services said: "Message in a Bottle is a fantastic scheme that could make a real difference to someone in need of urgent support, or in need of medical attention from the emergency services.
"Storing information in one place will also make it easier to contact a next of kin, a family member, social worker or carer.
"I'm really pleased that Adult Services are working in association with the Red Cross here in Powys to distribute the bottles."
Bottles are free to residents, and can be collected from the council's main offices in Ystradgynlais, Brecon, Llandrindod Wells, Newtown and Welshpool. They will also be available from libraries across the county.