£2.6m Welsh Government investment for new flats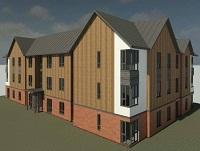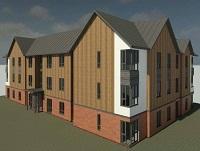 A social housing development in a north Powys town will be built using Welsh timber thanks to funding worth over £2.5m from the Welsh Government, the county council has announced.
Powys County Council's Housing Service has been successful in its application for funding from the Welsh Government's Innovative Housing Programme to build 26 one-bedroomed flats in Newtown.
The service has been awarded £2.6m from the programme from a £43m funding pot for this year, which has been set up to stimulate the design and delivery of new quality, affordable homes across Wales.
The planned low-carbon flats in Newtown, which received planning permission in September, will be available for rent and will help the council meets its Vision 2025 - to build a minimum of 250 affordable homes across the county by 2023.
The planned development, which will meet Welsh Government Development Quality Requirements, has been designed to meet the needs of future tenants and will use Welsh timber as part of its construction.
Cllr James Evans, Cabinet Member for Housing, said: "I'm delighted that we have received this funding from the Welsh Government, who see what we are planning to build as an innovative project.
"This will support the council in delivering on our promise to develop 250 additional homes over the next five years that meet the needs of the local communities across Powys.
"This development is just the first of many housing developments that we are planning across the county.
"Our design takes into account our Wood Encouragement Policy, which will see the timber used for both the primary structure and external materials including windows and doors.
"This exciting development is one that will meet the needs of the local community."
With planning permission granted and the tender process nearing completion, work on the development will start early next year and take 18 months to complete.