'Recycle more food waste' mid Powys households are urged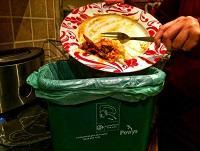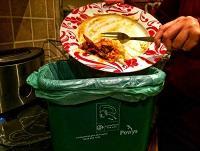 Households in mid Powys are being urged by Powys County Council to recycle as much of their food waste by using the weekly kerbside collection service.
Latest figures show that households in mid Powys are recycling on average 69kg of food waste per household a year, 10 per cent less than the rest of the county.
Now the council's Recycling and Waste Team want mid Powys households to recycle all their food waste every week by using the weekly household kerbside collection service.
Cllr Phyl Davies, Cabinet Member for Recycling and Waste, said: "Last year, households recycled over 5,000 tonnes of food waste using the kerbside collection service. However, some areas of the county seem to be recycling more food waste than others.
"On average, 75kg of food waste is being recycled per household in the county each year but in mid Powys this falls down to 69kg per household - a 10 per cent drop compared to the county average.
"We want household to recycle as much of their food waste and we will try to help households to get more from their waste services by recycling all their food waste every week.
"Sending food waste to landfill is expensive and bad for the environment. Using our kerbside collection service sees all food waste being recycled as it is sent to an anaerobic digestion facility in South Wales to make green energy and fertiliser for Welsh farmers."
An analysis of residual waste suggests that as much as 16 per cent of waste put into the black wheeled bin that is sent to landfill is made up of food waste.
"People are recycling their food waste but there is potential for them to do a bit more," said Cllr Davies.
"You can use your kitchen caddy to recycle all your leftover and raw food waste including vegetable peelings, meat, fish, dairy, tea bags and coffee grinds."
For more information on what items can be recycled using the weekly food waste kerbside collection service visit www.powys.gov.uk/recycle.