Trading standards receives commendation from judge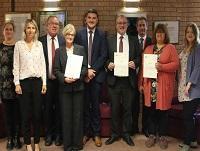 18th October 2018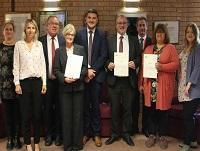 A crown court judge has commended the work carried out by Powys County Council's officers for protecting consumers from unsafe teeth whitening products.
Officers from the council's Trading Standards Service have received the commendation from His Honour Judge Harris-Jenkins for the manner which they investigated, put together and delivered a prosecution case that saw three people receive prison sentences for selling unsafe teeth whitening products.
News of the commendation was revealed today (Thursday, October 18) at the meeting of Full Council to elected members.
In 2016, the council's Trading Standards Service successfully prosecuted a family of three from Cheshire for selling the unsafe products after a three-year nation-wide investigation called Operation Gleam. Earlier this year, the service was also successful in its Proceeds of Crime action with the defendants ordered to pay back £1.6m that they made from their criminality of face prison.
Senior Trading Standards Officer Nikki Davies-Wheeler, Accredited Financial Investigator, Des Fitzpatrick and Solicitor for Highways and Enforcement and Rob Brown all received commendations from Judge Harris-Jenkins. Judge Harris-Jenkins also gave a general commendation to the team involved in Operation Gleam.
Cllr James Evans, Cabinet Member for Trading Standards, said: "We take our responsibilities to protect consumers seriously so I'm delighted that the work of our Trading Standards Service has been recognised by the crown court judge.
"Commendations from crown court judges are rare so for the officers and the service to receive is a huge testament to their professionalism and approach during Operation Gleam, which was one of the biggest cases undertaken by officers."