Grant funding success to Llandrindod Lake Park regeneration works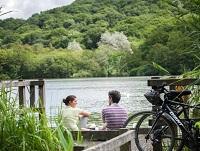 22nd October 2018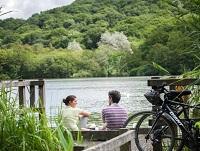 A bird hide, a fully accessible board walk and new fishing platforms are to be installed in a lake park area in mid Powys thanks to a £50,000 grant, the county council has announced.
Powys County Council will now provide the new infrastructure in Llandrindod Wells' Lake Park area, which will help support increased public access at the park while bringing a neglected area back into use.
The council's Regeneration Team was successful in securing the grant, which is being funded by the Welsh Government's Landfill Disposal Tax Community Scheme. The scheme is administered by the Wales Council for Voluntary Action (WCVA).
The latest works to install the new items of green infrastructure, which follow on from regeneration works that were completed earlier this year. It will provide long-term benefits to the local community and visitors by using a longer-lasting material which incorporates recycled plastics.
The fully accessible boardwalk will be constructed from a non-slip recycled material allowing year-round access and minimal maintenance for at least 30 years. The boardwalk, designed to enable access for wheelchairs and buggies, will provide an opportunity for the local community and visitors to get close to nature.
A bird hide will be installed on the boardwalk. The base will be made from sustainable recycled material with the hide built from timber by a local supplier. There will be viewing slots at different heights to allow adults, children and wheelchair users to view the wildlife.
A roof will provide an all-weather, all-year round experience for all including schools for educational purposes. Interpretation boards will be fitted inside on the local wildlife. The hide will enhance bird watching facilities to promote activity in the area and encourage more interest from the community.
Two new fishing platforms around the outer edge of the lake will be installed and will replace old platforms, which are to be removed due to their condition. Without this funding, the platforms would not have been replaced.
Cllr Martin Weale, Cabinet Member for Regeneration, said: "I'm delighted that we have secured this funding, which will help us increase public access to the Lake Park in Llandrindod Wells. This area is an important tourist facility which has already seen improvement works over the last 12 months."
Cllr Rachel Powell, Cabinet Member for Outdoor Recreation, said: "This is great news for the Lake Park which will enhance the area for more people to enjoy. The latest features will allow local people and visitors to get up close to nature when they have been installed."
If you would like to be involved or are part of groups that would use these facilities, contact regeneration@powys.gov.uk