Sponsorship opportunities available for career festival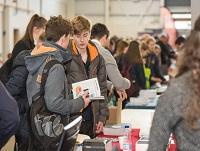 23rd October 2018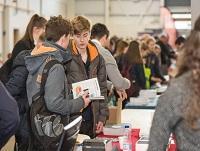 Businesses and organisations in Wales and beyond are being offered the opportunity to sponsor the third Powys Careers Festival in March.
Planning is now underway for the 2019 event, which is taking place at the Royal Welsh Showground in Llanelwedd on Wednesday March 6th. Some 3,500 learners from Powys attended this year's event and a similar number are expected next year. More than 120 exhibitors attended in 2018, including employers (private and public sectors), universities as well as a wide range of other organisations.
The festival is organised by the Positive Pathways Powys Group - a multi-agency partnership comprising of:
Powys County Council,
Careers Wales,
high schools in Powys,
the NPTC Group of Colleges,
Cambrian Training and
PAVO (the Powys Association of Voluntary Organisations).
The aim of the group is to ensure that learners in Powys are made aware of the range of opportunities which await them when they leave compulsory education.
Jackie Parker, is head teacher at Crickhowell High School and chairs the group: "We've had really positive feedback from the two festivals we've organised to date and we are planning for 2019 to be better than ever."
You can find out more about the work of the partnership - and see photographs from the 2018 event at www.facebook.com/PositivepathwaysPowys/
"The team is currently making arrangements for guest speakers and working with prospective exhibitors. We pride ourselves on making the festivals a useful day for our young people, sometimes opening their eyes to career pathways which may have not previously occurred to them. For other young people, it's a case of giving them an opportunity to chat with people already operating in the field that they are interested in," said Ms Parker.
Organisations interested in sponsoring this significant event should contact Jayne Bevan on jayne.bevan@powys.gov.uk or telephone number 01597 826695.