Offa's Dyke trail improved thanks to volunteers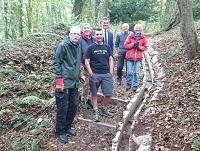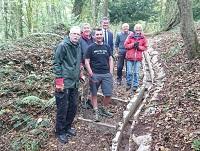 Improvement works have been carried out by a group of volunteers on a national trail near a golf course on the Powys/Shropshire border, the county council has announced.
Powys Countryside Volunteers have finished a major piece of work on a section of the Offa's Dyke National Path that borders Llanymynech Golf Course. The works were overseen by Powys County Council's Countryside Services.
The volunteers have built a substantial limestone drain and set of limestone steps. The 150-foot-long section of limestone slab leat was necessary to help drain a narrow section of the route.
Cllr Aled Davies, Deputy Leader and Cabinet Member for Countryside Services, said: "The Offa's Dyke National Trail attracts visitors from across the world so it is vital that we maintain the section that runs through our county.
"Our Powys Countryside Volunteers have done a marvellous job on this section of the path bordering Llanymynech Golf Course. I would like to thank them for their continuing efforts in keeping our rights of ways open for everyone to enjoy."
Rob Dingle, the council's Offa's Dyke Path National Trail Officer, said: "This section of the trail has been very muddy and waterlogged, causing walkers to walk around it which can erode the Scheduled Ancient Monument adjacent to it. It has also meant that some walkers have been walking on the golf course itself to avoid this muddy section.
"This is a major improvement for the route and the Powys Countryside Volunteers should be really proud of what they have achieved on this section of the trail. As well as our wonderful volunteers, I would like to thank staff at Llanymynech Golf Course who helped us move materials onto the site so that the improvement works could take place."
Phil Stallard, the council's Countryside Volunteer Co-ordinator, said: "This was a really tough task for our volunteers to get their teeth into but, as always, they finished the job to a high standard. While working on site it was great to be thanked by national trail walkers from all over the world for the work being carried out on this section of the trail."