Well-being assessment survey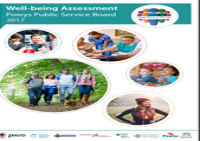 The Well-being of Future Generations (Wales) Act, which came into force in April 2015, is about improving the social, economic, environmental and cultural well-being of Wales.
It places a duty on public sector organisations and partner agencies to work together and come up with a plan which helps to improve the well-being of not just the current generation but taking into account the needs of future generations.
About the assessment
The organisations involved had to set up a board - the Public Service Board.
The members had to gather and analyse as much data and insights as they could about residents' well-being and publish this.
This is called a draft Well-being Assessment.
They then had to decide which issues to prioritise and what they could do to respond to improve well-being.
The actions are included in a long term Well-being Plan for Powys, which will be reviewed every 5 years.
What's happened in Powys?
We gathered lots of information and data on well-being, we now have well over 300 datasets on a diverse range of topics which helped us build up a picture of life in Powys and tell us things like how many:

tourists visit Powys and how much they contribute to the economy
childcare places are available for parents
older people are in residential settings or receive care in their own home
rights of way there are across the county
children are in care
children come out of secondary school with five GCSE's or more
crimes are committed and how safe and secure we feel

The assessment told us that travelling around Powys, poverty and deprivation and suitable accommodation for older people were potential areas where we need to do more.

Read more about the Well-being of Future Generations (Wales) Act