Engagement - your views on well-being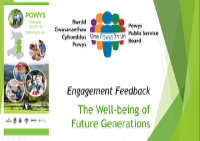 Engagement and consultation is a crucial part of producing a fit for purpose Well-being Plan. Over 300 datasets were analysed on a diverse range of topics to create and build up a picture of life in Powys.

Engagement Feedback [811KB]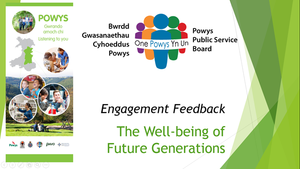 We then consulted over three key phases:
Phase 1 - February 2017
Phase 2 - July 2017
Phase 3 - November 2017 - February 2018
Phase 1:
We prioritised 31 issues and asked our colleagues to challenge this via two workshops held in November 2016. We then revised the assessment and took it out into communities and published it online too.
We asked you:
What does well-being mean to you?
Do the things we've included in the assessment seem accurate?
What's missing?
Out of the 31 priorities which would be your top five?
Would they be any different if you were thinking about the community you live in?
What responsibility should people play in terms of their own well-being?
Phase 2
We worked up our vision and four key objectives and sought views via an online survey during July 2017 and engaged some of the community groups from Phase I to gain their views.
Phase 3
We produced a draft plan with 15 well-being steps and took it out to communities to seek views.
We asked you:
Are the steps the right ones for Powys?
Do you think they will make a difference to you, your community and the county?
What do you think of the ideas listed for each step?
What ideas would you like to put forward?
From choirs to library drop in sessions, market stalls and supermarket conversations we sought views from a broad range of residents and fed back the views into the Public Service Board.
This page shows some of the key engagement activities undertaken during the three phases.
Watch your views on the assessment

Young People Said
As the Act is called the Well-being of Future Generations young people in Powys were a key target audience. The Powys Youth Forum were first asked for their views on the Act and given some insights into what it meant back in 2015. Young people gave their views on:
what well-being meant to them,
what impacted on their well-being,
how their voice was heard at home and
what needed to change to improve well-being in Powys
Since then the Powys Youth Forum have led on work to engage other young people across the county and created and sought views via an online survey and school activity pack which has resulted in the following documents being produced.

Download 'Our Future Powys' poster here [174KB]

Read the report on young people's well-being survey here [710KB]
Listen to the views of the Youth here
Launch event for the 12-week consultation

We launched our 12-week consultation with a Have Your Say Day conference for young people across Powys.

Around 100 pupils from some primary and high schools attended the day and took part in workshops focused on some of the well-being steps. From apprenticeships to mental health young people gave their views on what mattes to them and how they want their future to look.