Powys tops recycling carbon-saving league again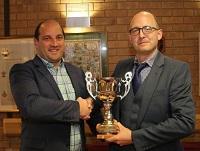 30th October 2018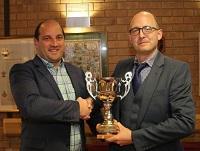 Powys County Council has once again won a prestigious award for being the best recycler in England, Northern Ireland and Wales in terms of greenhouse gas emissions saved through its efforts.
The council has received the Eunomia Recycling Carbon Index trophy for the second year running after it topped the carbon index league for achieving a carbon saving for 118kg per person in 2016/17.
Published in September 2018, the Recycling Carbon Index shows council recycling schemes in England, Northern Ireland and Wales saved CO2 emissions equivalent to boiling the kettle for 285 billion cups of tea.
The annual index uses the most up-to-date waste data. They calculate the quantity of CO2 emissions each local authority is saving in England, Wales and Northern Ireland through their recycling collections.
Accepting the trophy on behalf of the council, Cllr Phyl Davies, Cabinet Member for Waste and Recycling, said:
"To be the leading carbon-saving council for our recycling efforts in all of England, Northern Ireland and Wales for a second year running is a fantastic achievement.
"We're very proud of what local residents have helped us achieve and I would like to thank them for their efforts in getting us to the top spot once again, we couldn't have done it without them.
"The result shows that the effort that residents and our staff make to separate waste at source really pays dividends when it comes to producing carbon savings."
Eunomia's Principal Consultant Peter Jones, who presented the trophy to Powys Council said: "I'd like to congratulate Powys County Council on their impressive recycling performance. It's important to remember the role that recycling has to play in reducing our environmental impact.
"Maximising the amount they recycle is one of the easiest ways for people to contribute to reducing UK greenhouse gas emissions. It is important to have a measure that helps explain those benefits, and highlight the materials that make the biggest difference."