Brecon author creates inscription for town's cultural development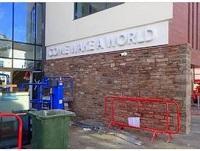 30th October 2018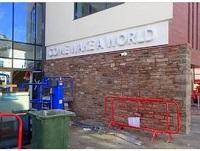 A Brecon author is seeing his words immortalised 'in stone' as part of the town's y Gaer development in the town.
Christopher Meredith's composition is now starting to take shape on the walls of the atrium in the building and parts of it are now visible from outside the building site.
The project is seeing the restoration of the Grade 2* Listed Brecknock Museum, with the addition of an iconic modern glass, steel and stone clad structure which will house the town's library, education and community rooms, a café and gallery spaces.
Christopher explained: "It was an honour to be asked by Brecknock Art Trust to compose the main wall inscription in Welsh and English for y Gaer, and a quite scary challenge. The space is complex, running outdoors and indoors through the glass walls of the atrium."
He added: "Public words like these work best if they have some immediate effect, but then the lasting power to resonate and grow in the mind. I've tried to compose a unifying thread of words, something dignified and at the same time a universal invitation, calling on people to come in and bring life to the building and its work."
The inscription reads: 'Mewn llên a llun mae bydoedd ynghwsg: dewch a dihunwch fyd · In each book, all art, worlds lie asleep: come wake a world'.
Christopher's brief was to write for one long continuous strip of words, which start outside the building on Captain's Walk, running inside through the glass atrium, and out into Glamorgan Street. And it had to be in two languages. Chris was given a maximum of 121 characters (letters and spaces) for his statement. And for the record, it's in 120 characters.
Councillor Rosemarie Harris, Powys County Council's Leader commented:
"We are now entering a truly exciting time in this development as the building really is beginning to take shape and Christopher's inscription is an important part of this."
"When y Gaer opens next year, I am sure that this development will attract higher numbers of visitors to the town, which in turn will give an important boost to the local economy," said Cllr. Harris.
Lucy Bevan, y Gaer Project Manager added: "Chris' transcription distils the great creative ambition of y Gaer in very few words and their being featured prominently within the heart of the building's atrium powerfully proclaims the vision boldly to readers. We are immensely proud to be featuring Chris's poetic work in such an iconic venue for the community of Powys.'