South Powys Library helps commemorate Town's fallen in WW1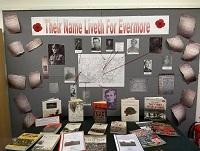 2nd November 2018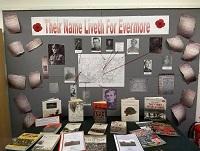 A library in south Powys is working with local groups on a very special display to commemorate WWI Remembrance Day.
Ystradgynlais Library has helped initiate and coordinate a community response with groups and individuals working together. They have created a 'waterfall' of knitted, crocheted and felt poppies that will hang from the library gate.
The British Legion and Ystradgynlais Town Council are supporting this commemoration which includes the help of local historians. Library staff are using their research skills and geneology resources to put together brief biographies of local soldiers who are listed on the War Memorial in Ystadgynlais and will be included on the town's 'lamp post poppies'.
The library is also putting up a display of books and resources in the library on the theme of WW1, which will include more details on our 'lamp post' soldiers.
"The community have really come together to support the Library's focus on this display. People want to commemorate the fallen who came from humble backgrounds to fight for their country in a devastating war. This is a community wanting to remember the real lives of our ancestors in a fitting and impactful way", said Principal Librarian Kay Thomas.