Find out how communities can benefit from wind farms
Guidance has been produced by the Council to assist community councils and local community groups in negotiating, receiving and administering community benefits which may arise from wind farm developments.
This framework for engagement seeks to ensure fair and meaningful participation of affected communities. It aims to: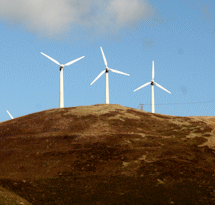 provide a simple overview of relevant planning matters
highlight the potential which exists for communities to benefit from commercial developments
assist communities to maximise potential benefits
signpost to further information and support
To get a copy of the framework, click on the links below.

Community Benefits from Wind Energy Development in Powys [126KB]

Briefing Note [18KB]
Or you could contact the Centre for Alternative Technology for more information.