New chief executive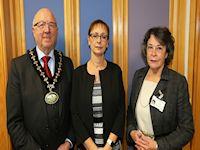 20 November 2018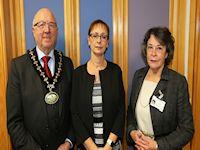 A highly experienced ex-senior civil servant and local government officer has been appointed as the new Chief Executive for Powys County Council.
Dr Caroline Turner, Assistant Chief Executive with the Isle of Anglesey County Council, was appointed Chief Executive of Powys County Council by a special meeting of the council on Tuesday (November 20).
A fluent Welsh speaker, with more than 25-years' experience in local government and the civil service in Wales, Dr Turner will succeed Dr Mohammed Mehmet, Powys County Council's Acting Chief Executive.
"I am delighted to have been appointed chief executive of Powys County Council and look forward to working with elected members, officers and partner organisations. Local government in Wales is facing challenging times but by working together we can deliver good quality sustainable services for the people of Powys," she said.
Originally from Anglesey, she is married to Michael and has a 23-year-old daughter Gwenan. She has a Degree in Government, a Master's degree in Leading Public Service Change and Organisational Development.
After five years tutoring International Politics at University of Wales Aberystwyth, she joined the former Gwynedd County Council. She later went to Isle of Anglesey County Council holding a number of senior positions in economic development.
She joined the Welsh Government in 1999 and spent more than 17 years working in Cardiff and Merthyr holding a number of very senior positions including:
Head of Communities,
Head of Digital Wales,
Head of Expert Services,
Deputy Director of Welsh Language and
Deputy Director of Governance.
In 2015 she returned to local government when she joined Isle of Anglesey County Council as Assistant Chief executive.
Photo caption: (L to R) Cllr David Meredith, Chairman of Powys County Council, Dr Caroline Turner, newly appointed Chief Executive and Cllr Rosemarie Harris, Leader Powys County Council.