Crickhowell licensee fined for commercial waste offences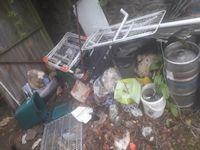 6 December 2018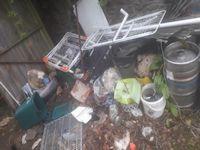 Failing to transfer commercial waste to an authorised waste carrier or permitted waste disposal facility has cost a Crickhowell licensee almost £800. They were prosecuted by Powys County Council.
Peter Saxon, of the Britannia Inn, Crickhowell, was convicted in absentia at Llandrindod Wells Magistrates Court on Wednesday, December 5. Peter was convicted under Section 34 of the Environmental Protection Act (Commercial Waste 'Duty of Care') and associated Regulation 35 of the Waste (England and Wales) Regulations 2011.
The court heard that the council has received complaints about commercial refuse being stockpiled at the back of the premises and a joint investigation between the council's waste awareness and enforcement and environmental health teams was opened. During the investigation, officers found evidence that showed the landlord had accumulated significant volumes of commercial refuse in their back garden.
The court heard that the defendant had failed to co-operate with the investigation and comply with a legal Section 34 notice that was issued to the defendant. This requires traders to produce evidence of where their waste and recycling goes.
Saxon was found guilty by magistrates and fined him £440 for the offences. He was also ordered to pay £150 investigation costs, £150 legal costs and a victim surcharge of £44.
The court also placed a collection order requiring payment of the full amount of £784 within 14 days.
Cllr Phyl Davies, Cabinet Member for Recycling and Waste, said:
"Our Waste Awareness and Enforcement team has been working closely with the Environmental Health team to try and help this business comply with these important waste regulations.
"Waste is highly regulated because it can be harmful if it is not managed correctly. Clearly the storage of waste from a food producing business is a potentially serious risk to the environment and public health.
"Despite several efforts, the defendant did not co-operate and comply with our instruction so we were left with no option but to take on this prosecution.
"This case should also serve as a reminder to all businesses that they are legally required to store, transport and dispose of the commercial waste professionally and keep the appropriate documentation to verify this process."