Recycle your food waste this Christmas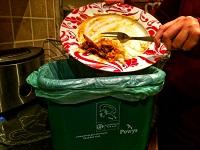 10 December 2018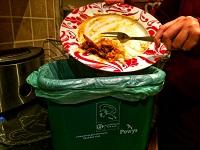 Households in Powys are being urged to recycle all the food waste they produce over the Christmas period by using the weekly kerbside collection service.
Powys County Council's Recycling and Waste Team are reminding everyone about the importance of using the weekly kerbside collection service to dispose of food waste over the festive period, which contributes to Wales' green energy production.
All food waste collected in Powys is sent to an anaerobic digestion facility in South Wales, where it is broken down into a natural biogas and turned into renewable electricity to power homes, factories and offices. A fertilizer is also produced as part of this process which is then used by Welsh farmers.
During the Christmas and New Year period last year, the council collected almost 500 tonnes of food waste from households, 15 per centre more than an average month. Recycling this amount of food waste can produce enough energy to power 100 households in Powys for a whole year.
Cllr Phyl Davies, Cabinet Member for Recycling and Waste, said: "Christmas is a time for families coming together and enjoyment but over the years, it's also become a time of waste.
"We want to encourage all households in Powys to reduce their environmental impacts by making sure any uneaten Christmas food gets put out for collection through our kerbside collection service. In this way, we can reduce the amount of waste being sent to landfill, cut carbon emissions, support agriculture and produce more renewable energy in Wales.
"For example, if every household in the county recycles the peelings from their sprouts using our weekly kerbside collection service, they would produce enough green energy to power all the televisions in Powys for long enough to watch the Queen's Christmas Message."