Housing company and director prosecuted for highway offences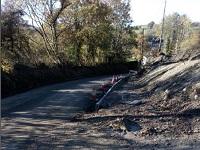 14 December 2018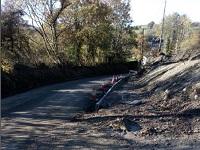 Carrying out work on a public highway without permission has cost a Powys housing development company and its director over £4,300 after they were prosecuted by the county council.
Tanat Valley Developments Ltd and company director David Jones, of Llanfyllin, appeared before Llandrindod Wells Magistrates Court earlier this month (December 5). The prosecution was led by the council's Highways Operations Team.
Magistrates heard that the council had received a complaint regarding a road closure in the Llanrhaeadr-Ym-Mochnant area on the B4580. Officers from the Highways Development Control Team visited the site on 2nd November 2018 to investigate.
At the site, the found that somebody had made excavations in the highway and had constructed a kerbline. Officers also observed that a significant amount of excavation works had taken place, leaving a steep gradient of disturbed materials and exposed cables with no pedestrian safety in place.
Magistrates also heard that an access had been formed with an excavation in the access adjacent to the carriageway. Officers observed that there was no bitumen surfacing and that debris and mud from the site was being dragged out onto the highway. At least one street light had also been removed in absence of any consent from the council as the highway authority.
Officers also found visible excavations in the B4580 road at the site, which has been backfilled using soil which posed a risk to road users, including pedestrians. No advance warning signs of the works were in place and no guarding was in place to safeguard the public from passing vehicles.
Company director Jones, who pleaded guilty was fined £265 each for two offences (reduced from £400 due to an early guilty plea hearing), ordered to pay £786 costs and a £30 victim surcharge.
The company received a financial penalty of £400 (reduced from £600 due to an early guilty plea) each for four of the offences and a £500 fine (reduced form £750 again for the early guilty plea) for one other offence. They were also ordered to pay £786 costs and a £100 victim surcharge.
Both defendants were made subject to a collection order requiring full payment within 28 days.
Cllr Phyl Davies, Cabinet Member for Highways, said: "Any works required on the highways require permission from the council. This is to ensure any works are acceptable, up to the required standard and that the community are informed of any works in advance of any start date.
"It is also vital that road users and the public are protected while any works are ongoing.
"In this case, the developer proceeded with the works without gaining our permission. We had no other choice but to prosecute. This should serve as a warning to anybody thinking of carrying out works on the highway that they could also be prosecuted if they do not have permission."