Midwife receives Gold Kite award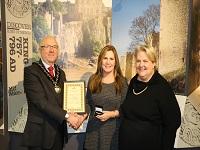 4 January 2019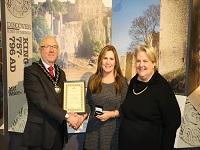 A midwife from Knighton, who won a prestigious midwifery award in 2018, has been presented with a Gold Kite by the Chairman of Powys County Council.
Sarah Spencer, a senior midwifery manager with Cardiff and Vale University Board, was presented with the Gold Kite Award and certificate of appreciation by Cllr David Meredith. It was in honour and recognition of her prestigious award as Midwife of the Year 2018 for the Welsh region.
The midwifery award is one of the Royal College of Midwives (RCM) Annual Midwifery Awards, recognising the incredible work done by exceptional midwives across the country.