Presteigne active travel works have started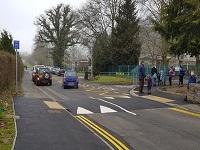 29 January 2019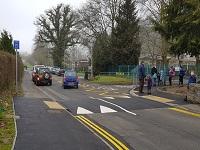 Work to expand active travel facilities in a mid Powys town have started, the county council has confirmed.
Powys County Council started work on phase two of Presteigne's Safe Route to Communities project on Monday, January 28, thanks to a £400,000 grant from the Welsh Government.
The project's aim is to improve active travel facilities in the town so that more residents are encouraged to travel short journeys by walking or cycling rather than by vehicle.
The latest works will see new paths created, existing paths widened, traffic calming measures and a new 20mph zone along Greenfield Road and Hereford Street.
The work will be funded from the Active Travel Fund, the Welsh Government's funding commitment to boost levels of active travel across Wales in line with the Active Travel (Wales) Act 2013.
Phase one of the project, which was officially opened last year, saw huge support from the community with more residents deciding to walk or cycle using the new path.
Cllr Phyl Davies, Cabinet Member for Highways, said: "I'm delighted that work on the second phase of this project will start, expanding the popular the active travel facilities that are already in place in Presteigne.
"We want our residents to be more active but that can only happen if the infrastructure is in place for them to walk or cycle.
"When these works are completed, Presteigne will have one of the best active travel facilities in the county.
"I would like to thank the community of Presteigne, who have helped shape the design of the plans for the latest phase, and also the Welsh Government, who have supported these proposals and provided the grant funding."