Brecon to host Welsh Guards St David's Day Parade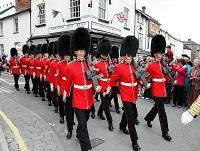 6 February 2019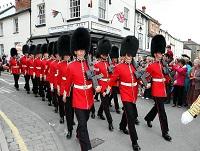 Wales's Senior Infantry Regiment will be visiting Powys next month for their annual St David's Day Parade.
The Welsh Guards will be in Brecon on Friday, March 1 as part of their annual parade.
A private service will be held at Brecon Cathedral at 11:30 am before the parade, led by the Band of the Welsh Guards, marches from the cathedral at 12:30 pm to the town centre and halts outside the Wellington Hotel.
Outside the hotel Cllr David Meredith, Chairman and Cllr Rosemarie Harris, Leader of Powys County Council will be joined by Deputy Lieutenant Nicola Watson the High Sheriff of Powys Mr David Price and other dignitaries. They will be presenting leeks to the regiment.
The parade will then march off to Theatr Brycheiniog and dismiss where a reception will take place.
Cllr Meredith said: "The Welsh Guards have a proud history and we are delighted that they are coming to Powys for their annual St David's Day Parade.
"Unfortunately last year's Parade was cancelled due to heavy snow, we feel privileged to welcome them back and hope the weather will stay dry."