Former Machynlleth shop turned into office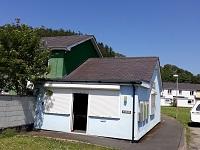 7 February 2019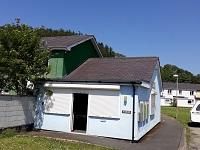 A former shop on a Powys housing estate, which has suffered water damage, has been turned into an office which can be used for meetings by community groups, the county council has said.
The Old Shop on Machynlleth's Bryn-Y-Gog estate has been repaired by Powys County Council's Housing Service and will now be used by the service as an office and a base on a regular basis.
In addition, other council services as well as public sector organisations, local businesses and local community groups will be able to book the office for free if they require a room for meetings.
The former shop suffered water damage to the roof and floor in recent years but was repaired and the building decorated by SWG Construction on behalf of the council to bring it back into full use.
The building includes a large meeting room, a kitchen and smaller meeting room which offers the ability to have a separate or private meeting. It also has a wi-fi network that visitors will be able to log onto.
Cllr James Evans, Cabinet Member for Housing, said:
"I'm delighted that we have been able to bring The Old Shop on Bryn-Y-Gog back into use.
"Not only will it be used by our Housing Service as an office and a base to meet with our tenants on a regular basis, it will also be open to other organisations and community groups for them to use for free.
"I hope that this office will become and multi-functional and well-used hub for Machynlleth."
Local Member for Machynlleth, Cllr Michael Williams, said;
"I am absolutely delighted with the renovation work which has resulted in the re-opening of the shop on the Bryn-Y-Gog estate. I am pleased that common sense has prevailed and that this project will see a useful facility in operation.
"I understand that housing officers will be on site most days providing service to the community and that the building will be available to community groups free of charge."
The official opening will take place on Thursday, February 14.
To book the Old Shop, call the council's Housing Service on 01597 827464.