Real time views sought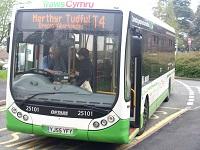 26 February 2019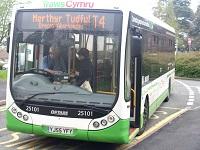 Bus passengers using the T4 and T6 routes in Powys are being asked for their views on a new real time system which helps track where and how far away a bus is at any given moment in time.
Bus passengers waiting at a bus stop can use the technology to see at a glance where their bus is and when it's due to reach them.
Passengers travelling on either service may be asked to take part in the short survey whilst others can give their views via an online version which is available until Monday 11 March 2019.
Cllr Aled Davies, Deputy Leader and Cabinet Member for Transport, said: "In a rural county like Powys, bus services can and do provide an important service for a number of residents who need to get from A to B but don't have access to or cannot drive for various reasons.
"The real time information system is a great investment in technology which will help those needing to use public transport to check in and feel safer knowing exactly how far away their bus is and when it will arrive at their stop."
The online survey which also asks about the Free Weekend Travel scheme and satisfaction with the bus service overall runs until Monday 11 March.
It is available on the council's website at www.powys.gov.uk/haveyoursay