Brecon High School Preview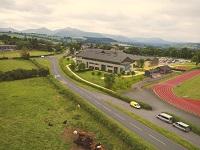 6 March 2019
Parents, pupils and the community are being invited to have a sneak preview of Brecon's new high school long before it opens.
Work on the £21m project is well-advanced and parents are being invited to a drop-in during a series of open events organised contractors Bam Construction UK Ltd later this month.
The open events, which have to be booked in advance, run between March 18 and March 22, give visitors an hour's tour of the site.
When complete the new school will cover 7,500sqm, and provide a state-of-the art 750-place secondary school with integrated 6th form (11-18 years). It will have a full cooking kitchen, dining areas, four court hall, activity studio and specialist teaching areas.
The planned visits will take place during week 50 of 78-week project programme, underfloor heating installation will be in progress which will preclude access to areas where this work will be progressing.
Other installations taking place will be wall partition construction, decoration and mechanical and electrical installation.